Time for some words
August 16, 2010
Those who follow my blog on a regular basis know what it's about.  I use the blog almost exclusively for displaying my work from weddings, engagements, and portrait sessions.  I don't blab on about myself, my personal life, or post things that people generally don't care about seeing.  A lot has happened in the past couple of months though, and I think it's time to share what has been going on.
Jim and Trisha
Many of you know the story about Jim and Trisha.  I made a blog post about them a few weeks ago here.  Well, as it turns out, Trisha is losing her battle with the brain tumor.  I don't know too many details, but it sounds like she doesn't have long left.  This has been by far the most horrible thing I've had happen in my photography career.  Brain tumors are rare amongst young people and the odds of you falling ill from one on the day of your wedding are practically zero.  It was basically a freak illness at one of the worst possible times in her life.  The fallout from which is absolutely devastating – both to her husband and her family.
The Atlanta Journal Constitution did a story about her here this past week:  Promises Made, and promises kept.  It's definitely worth a read if you've got a few minutes.  As bad as all of this is, I'm just glad I was able to get some good pictures of Jim and Trisha on their wedding day.  This really underscores the importance of my job, which I take  seriously.
Finding a photographer
This past week I stumbled upon a link to an article online that I particularly liked.  Here is the link:  What to look for in a photographer.  The article really resonated with me and seemed to align well with what I believe and how I try to work with couples.  I don't particularly obsess with what other photographers do, but I work with ordinary people.  I don't shoot fashion models or famous people.  I work with people from all backgrounds, ethnicities, shapes, and sizes.  Most of the couples I work with aren't great in front of a camera (I'm not either, it's ok), but part of my job as a photographer is to make them comfortable enough that they start to enjoy themselves and have fun.
Bridal Show
So I participated in my first bridal show yesterday.  It was the Bridal Extravaganza here in Atlanta at the Crowne Plaza Ravinia.  I thought I had a pretty good showing all things considered.  I wasn't in the best location, nor did I have the fanciest booth, but people really seemed to like what they saw.  I got lots of visitors and handed out plenty of cards.  I really didn't know what to expect, but things went well and hopefully I'll get a solid response from the show in the upcoming weeks.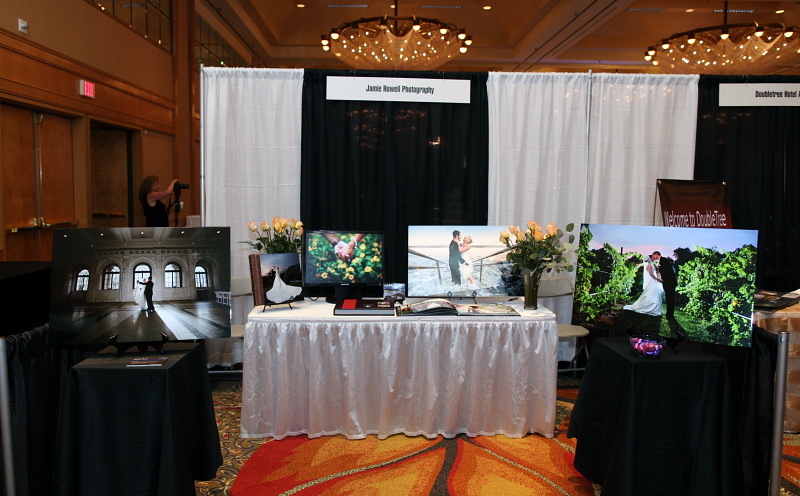 Wedding Schedule
I've gotten a lot of people over the past few weeks who have asked about Spring 2011 wedding dates.  Spring is booking up in a big way right now with April, May and June all but filled up.  Right now I've got one Saturday in April open and one Saturday in June open.  The rest of the Saturdays in those three months are all booked up.   If you're having  your wedding on a Saturday next spring, right now is the time to look into booking.  As much as I hate turning people away, the dates are first come first serve.
That's all for now.  I'll leave you guys with a sneak peak from Ashley and Aaron's wedding this past Saturday.  This picture was taken immediately after their ceremony at Monteluce Winery.  More to come later this week!